50 Cent Drops The Game From G-Unit!; Jadakiss Replys!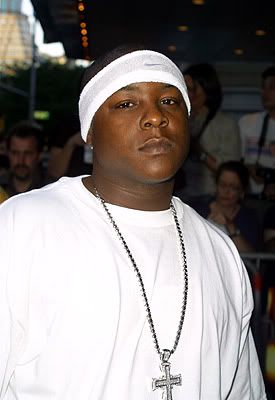 Remember what I said about 50 Cent and The Game having beef
? Well, tonight 50 Cent was on
Hot 97.1 in New York
and told Funkmaster Flex he was disappointed with
The Game
when he made comments about not getting involved in the beefs 50 Cent stirred up with Piggybank. The Game even f*cked around and said he was gonna do a song with Nas, who
just finished making comments about the 'CB4 Gangstas' ruining the rap game
. For the disloyalty,
50 Cent said The Game has to get the f*ck out of G-Unit
. I wonder if
Nick Cannon is his replacement
? And in
50 Cent almost getting killed
news,
a man in his 20s from L. A. was shot in the left leg during an altercation in the station's lobby
and was taken to St. Vincent's Hospital, while 50 Cent was talking to Flex. The injury was not serious, and he is expected to recover.
Early reports say it's one of Fifty Cent's bodyguards
. Stay tuned for more.
BREAKING NEWS
:
Jadakiss
called up to Hot 97.1 during Clue's show and said he'll sit down and talk with 50 Cent, "after he airs him out". He went on to talk about how this is all promotion for
50's new album
and even said everyone at
Interscope
wants him to give it to 50 Cent. He said besides the sales put on an instrumental and dude can't f*ck with him. Jadakiss ended by saying he won't let down the fans, the inmates or himself.