The Game Gets Dumped On Change Of Heart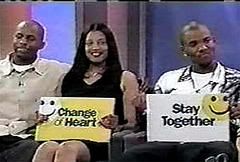 Remember when
Yukmouth
was beefing with The Game and kept yapping about
his tongue ring and appearance on Change of Heart
? Well here is a picture from the episode. The chick that deaded him is kinda official too. Look at her, smiling harder than a m*th*rf*ck*r. I know she wishes she never did that sh*t,
The Documentary just went platinum
. Oh yeah and peep
dubcnn.com
's interview with 50 Cent where he talks about
the rumors of beef between The Game and Lloyd Banks
.