Ex-Korn Guitarist Writes Letter From God To 50 Cent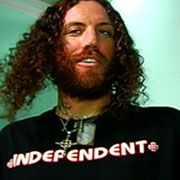 He left
Korn
last month, and
Brian "Head" Welch
was baptized in the Jordan River. Now he wants to save souls for Christ starting with 50 Cent."The Big Guy speaks through me a lot when I write, and I have a song for 50 Cent I wrote in the Holy Land. I feel like it's a personal letter to 50 from God, so I'm going to give it to him personally and see what his reaction is," Welch wrote in an email to MTV about his trip to Israel.
"If it's a positive reaction and he's willing to talk to me, then I'm not gonna release it, but if the reaction is not positive, I'm going to share it with the world."
Welch said he doesn't fear retribution from 50 either because he feels protected by the fact that he's merely acting as an emissary between God and the former Curtis Jackson. "It's not a mean song, but it is like a loving father disciplining his son and telling him how it is — kind of like Tré's dad in the movie 'Boyz N the Hood', " Welch continued. "There is really no way he can come back at me through music because it's not from me ... it's from the Big Guy. Even 50 respects the Big Guy."
There's been no comments from 50's camp concerning the song so far
.