Members of The Game's Crew Sought By NYPD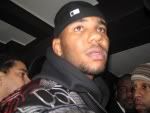 NYPD
detectives are in Los Angeles searching for clues to last week's shooting at Hot 97. The NYPD has surveillance footage of the incident and is hoping that the
LAPD's Gang Unit
can help identify members of The Game's crew. The shooting victim,
24-year-old Kevin Reed
, is from Compton and detectives suspect that the other men on the tape are as well. The police have already identified two members of 50 Cent's camp and both men have been linked to
Violator Management
, which manages 50, and was shot at hours after the
Hot 97
incident. They also believe that the footage shows the face of the shooter, but they have yet to identify him. "They have a face but they don't have a name," an investigator told Daily News. I think the cops should holla at
Lil' Cease and Capone
. I'm sure
those two dudes will tell them anything they need to know.