The Game Charged With Assault, Sued For $280 Million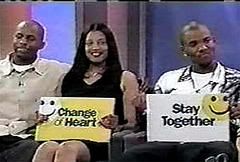 Prosecutors in Prince Georges County, Maryland have filed assault and battery charges against The Game,
after an incident in which he allegedly assaulted radio host DJ Zxulu, formerly of 93.9 WKYS-FM in Washington, D.C. on January 21st, 2005.
Another man has come foward claiming he was also assaulted.
In his $280 million lawsuit, Kwasi Jones alleges that in addition to the assault of DJ Zxulu, a group of 20 men accosted him and assaulted him in the radio station. Aftermath Entertainment, Shady Records and G-Unit are named in the lawsuit as well, since Game is an artist on G-Unit, which is distributed by companies owned by Eminem and Dr. Dre. Jones also claims the record labels were negligent for issuing a remix to "Hate It or Love It," which originally appeared on The Game's The Documentary.
On the remix to "Hate It or Love It" featuring 50 Cent, Banks, Yayo and Buck, The Game rapped,
" I'm rap's MVP/ Don't make me remind y'all what happened in D.C."
Dummy!