Rap News
Why is Will Smith Still Rapping?

Peep the article below by
Greg Tate
where he asks and tries to figure out a question that's even had me stumped for a minute now,
Why is Will Smith still rapping?

Sure, Will Smith's the one married to Jada, but underneath the skin we're brothers. I'm an old muhfluckuh who don't need to be trying to rap like he's an old muhfluckuh who don't need to be trying to rap. Making Will's Lost and Found a whole lot of huffing and puffing signifying nada, the lamest album that'll be released this year. It violates an immutable law of the celebrity universe—that Hollywood actors don't get to pretend they got flow anymore than they get to pretend they can rock and roll.

Some things, like having story, bounce, and wit in your voice, can't be grafted on like hair, makeup, and wardrobe. And Will never had style as an MC, just annoying and cloying bubblegum shtick. It served him well at 17, but the Fresh Prince wasn't built to age gracefully. Even in movies where he's playing a grownass man on major steroids, I keep expecting him to bust out with "Parents Just Don't Understand." "Summertime," that top-down-in-the-sunshine song where he tried to flip it like a happy-go-lucky Rakim, that grooved me, I'm not ashamed to say. But now homeboy wants to be Rakim, Eminem, and Fitty too. Lost and Found got not one but two wannabe "In Da Club" 's, like we need to see our Cosby-esque Unka Will propositioning young hotties with lines like "How come you don't wanna dance—you shy?" Uh uh. Noooo. Sounds like borderline sexual harassment. Yuck. And if you're a Black man so unkool you must counterattack Eminem for ranking and filing on you, why ape Lil' 8 Mile's style? For god's sake pull yourself together man.

The most deeply felt thing here—there has to be something—is when Will is unable to answer his son about whether there were people in those buildings he saw fall on 9-11. Pursuant to that, "Ms. Holy Roller" goes after a cheatingass flame who found Jesus and wants the world to know it's going to hell. Only Will ends up comparing her religious zeal to that which allegedly brought down the twin towers. Problem is, other than making us suffer Black indie cinema like Woman Thou Art Loosed and taking under-the-pulpit money from white supremacists against gay marriage, Black evangelicals seem a pretty toothless lot, dude. Though I hope they burn in hell.

Will, I beg of you. Cease and desist making imitation hip-hop albums. Stop your dreadful impersonation of an MC. If this is a sickness, get help. Love your culture.
M.O.P. Leaves The R.O.C./ Dame Dash Music Group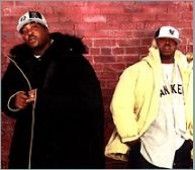 Almost 3 years after signing with Jay, Dame and Biggs and revealing that they would embark on a label deal through
Dame Dash Music Group
after Rocafella's sale,
M.O.P
. has now secured an unspecified recording deal domestically with another company and are seeking another for the international market. Group manager Laze E. Laze says the group will make a clean, amicable break from all parties. In a statement, Laze said, "You see Roc-A-Fella was never our home. It was the home of Jay-Z, Biggs and Damon Dash. No, that's not us, or Kanye or Cam'ron, It's the house that Jay-Z, Biggs and Dash built. And those days are gone." He went on to say, "I want to apologize to the fans of
M.O.P.
for signing a deal with Roc-A-Fella Records. Well, I didn't do it alone. We all had to sign. So, from Bill [Billy Danz], Lil' Fame Foxx, Rocko, Flip [and] the whole First Family - we apologize, with that I think every other act that signed owes the same apology, with the exception of Bleek, Beans and Amil." Laze E. Laze said he had a reflective revelation at Dame Dash's recent birthday party. "It became so clear to me when I looked at these guys together again. At Damon's birthday, party Jay and Dame looked natural. It was like they never split. Jay [was] effortlessly handling the overwhelming stares of groupies and super groupies and Dame seeming to gain confidence with Biggs on one side and Jay on the other. It's the ROC," he said. "No, we didn't belong there. That's our cousin's house. We love our cousins and we are welcome, but we never lived there.[Jay and Dame's split] was the classiest divorce I've ever seen," Laze said, but said he realized that M.O.P. is a group that charters a different path. "M.O.P.…we were destined to travel the desert, vagabonds, wild hyenas searching for bones or a fresh kill. We aren't classy we are rough, hard *ss ashy knuckle *ss n*gg*s. And the only peace we are ever going to have is when there is a war going on, that's our lot in life."
Read M.O.P.'s statement here.

Raffle: Time 100, Houston's Best Kept Secret, and What Rakim Told Me
Remember Common's ex-wife? The one that goes by the name of Hip Hop...Well, she found herself in the latest list concocted by Time Magazine. The top 100 includes your favorite rapper's favorite duo, OutKast, as well as the self-proclaimed god MC, Jay-Z. Shame on all those naysayers who never gave Rap a chance in the first place, simply because they couldn't understand the concept of people talking over music.
In a non-related development, C-Rayz Walz, a keynote underground MC has been enlisted by MTV to serve as a Freestyle Mentor in the next episode of
Made
. The Freestyle specialist will be serving up some recipes to his student, an aspiring rapper. Look for C-Rayz when
Made
airs on June 10.
To those Hip Hop fans who love to get their knowledge on - Go pick up the Wu-Tang Manual by The RZA and
Rakim Told Me:Hip Hop Wax Facts...
by Brian Coleman, Boston-based journalist who also hosts XXL's Classic material column. The former is the Wu-Tang fan's ultimate guide to The 36 Chambers: lyrics and their meanings, extensive profile of every member of the Clan, and group bio; while the latter chronicles Rap's golden era with concise details. I picked up a copy of the Wu-Tang manual at Barnes and Nobles and I must admit that it exceeded my expectations.
Another crew with plans of toppling all expectations is the creative bunch at Shady Records. Pharoahe Monch, the new Shady-signee will release an album that'll be Executive-produced by Denaun Porter(Kon Artis). The wait has officially began for us Pharoahe fans.
And for those asking questions about Obie Trice, his sophomore album
Murder City
is bound to hit the Hip Hop nation this winter with more devastation than the Tsunami.
Now onto, the main feature of the day: Houston's Best Kept Secret. If you're from the H-Town, that expression is all you need to know that Godwon is the man in discussion. And, if you haven't heard of
Godwon
, then you must be living in the newly discovered planet. His flow is crisp and impeccable, his cadence, riveting. Godwon is the definitive MC with a great deal of appreciation for the art. Artistic prowess apart, he has enough backing to crash a brick wall. There have been rumors of Shady Records, Universal, and other labels striving to sign this billion-dollar talent. He's also cosigned by The Authentic King of The South, Mr. Scarface himself. See Godwon in the Geto Boys video for
The G Code
.
That's a rap folks. Stay tuned to Rap News for more up to date info-tainment.
Rizoh
I'm the CEO of Diplomat Records, I'll Sign Myself!

It's official,
Cam'ron
has left Roc-A-Fella/Island Def Jam and signed with Asylum/Warner Music Group.
There's good news for Jim Jones and Santana too
. Jim Jones is the newly appointed director of black music at the Warner Music Group and Juelz Santana recently signed a new joint-venture deal with the Def Jam. Dip Set
weed carriers
Hell Rell and J.R. Writer are still on Koch.
Ten Most Anticipated Albums of 2005
Little Brother
-
The Minstrel Show
(Atlantic)
Guest List
: Joe Scudda, Yazarah, Elzhi(Slum Village)
Release Date
: Quarter 3 or 2005
Reason 2 Anticipate
: Big Pooh promises to awaken us like a spring mattress. 9th Wonder has been labeled the Pete Rock of our generation, and Phonte's "tailor-made" flow is still intact.
Custom Made
-
Pillow Talk
(Custom Made)
Guest List
: Mobb Deep, Jedi Mind Tricks, Inspectah Deck
Release Date
: June 2
Reason 2 Anticipate
: There's always a mystique factor about a relatively unknown group with bright prospects. Every West Coast MC has been on the same mission for the past 8 years - to resurrect the West. This lyrical powerhouse is doing it with a unique approach - they strip their sound off the conventional heavy bass line, and focus on catchy hooks and dazzling lyrical content, laid over jazzy beats.
Kanye West
-
Late Registration
(Roc-A-Fella/Def Jam)
Guest List
: John Mayer, GLC, Consequence John Legend, Keyshia Cole
Release Date
: Late June
Reason 2 Anticipate
: We get to watch Kanye argue his way to the top for a second consecutive time. Plus, there'll be another dime in one of the videos that'll follow this sophomore LP. Oh and the supposed gold chain that accompany every major release these days.
Common
-
BE
(Geffen)
Guest List
: John Legend, Bilal, Kanye West(as if you didn't know that already)
Release Date
: May 26. A bootleg version might be available on the net.
Reason 2 Anticipate
: Comm is supposed to tell us how and why he fell in love with Erykah on this record.
Styles P
-
Time Is Money
(Ruff Ryders/Interscope)
Guest List
: Talib Kweli, Jadakiss, Sheek Louch,(the usual suspects), Mario Winans, JE
Release Date
: June 2005
Reason 2 Listen
: D-Block is set to unleash their 127th official 50 Cent diss song on SP's album. The Ghost is expected to float all over the record in what's possibly the more versatile of his two solo efforts.
Saigon
-
The Greatest Story Never Told
(Fort Nox/Atlantic)
Guest List
: Saigon, Saigon, and Saigon.
Reason 2 Anticipate
: Sai got "the bowtie flow; he'll bring it to your neck" Although, Alchemist and Scram Jones are slated to bless Saigon's project, it'll be interesting to see how he can maintain his razor sharp lyrical edge over club-ready Just Blaze production.
Sean Price
-
Monkey Barz
(Boot Camp)
Guest List
: 9th Wonder, Buckshot
Release Date
: May 31
Reason 2 Anticipate
: "I send your ass to heaven, muthafucka ask about 'Pac" His blend of lyricism, wit and wordplay make the craft look so easy. His style is like a manual named "Hip Hop 4 Dummies"
Buckshot & 9th Wonder
-
Chemistry
(Boot Camp)
Guest List
: Little Brother, L.E.G.A.C.Y., Joe Scuddah
Release Date
: May 24
Reason 2 Listen
: We can't get enough of these 100% 9th Wonder records; So far, they've all successfully gone plastic. But those collabos are diamond to Hip Hop heads.
Chemistry
and
Monkey Barz
are the 2/3 of the Boot Camp tripple threat this year. Hi-Tek and Steele complete the cypher with
Smif 'n' Wessun Reloaded(
June
)

Fat Joe
-
All or Nothing
or
Things of That Nature
(Atlantic) or whatever he decides to go with next
Guest List
: Nelly, Mashonda, Cool & Dre, All Terror Squad affiliates, dead or alive.
Release Date
: May 24
Reason 2 Listen
: To find out what he'll eventually title the album. Also, Joey will attempt to protect his NY Crown - the one he won last year for "Most Improved Rapper"
AZ
-
Final Call
(Universal)
Guest List
: Tony Sunshine, CL Smooth, Rell, Ron G
Release Date
: Never
Reason 2 Listen
: AZ's non-stop flow, "Magic Hour", another "Quiet Money" song, and the fact that fans will discover new ways to sleep on him again.
Rizoh.



A real rap and hip hop news blog. Real talk about rap news, hip hop, life, general hood sh*t and other blogs that comment on hip hop. Get a real perspective. Reviews of Hip Hop DVDs and rap CDs.