M.O.P. Leaves The R.O.C./ Dame Dash Music Group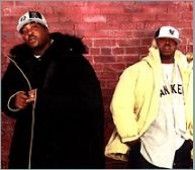 Almost 3 years after signing with Jay, Dame and Biggs and revealing that they would embark on a label deal through
Dame Dash Music Group
after Rocafella's sale,
M.O.P
. has now secured an unspecified recording deal domestically with another company and are seeking another for the international market. Group manager Laze E. Laze says the group will make a clean, amicable break from all parties. In a statement, Laze said, "You see Roc-A-Fella was never our home. It was the home of Jay-Z, Biggs and Damon Dash. No, that's not us, or Kanye or Cam'ron, It's the house that Jay-Z, Biggs and Dash built. And those days are gone." He went on to say, "I want to apologize to the fans of
M.O.P.
for signing a deal with Roc-A-Fella Records. Well, I didn't do it alone. We all had to sign. So, from Bill [Billy Danz], Lil' Fame Foxx, Rocko, Flip [and] the whole First Family - we apologize, with that I think every other act that signed owes the same apology, with the exception of Bleek, Beans and Amil." Laze E. Laze said he had a reflective revelation at Dame Dash's recent birthday party. "It became so clear to me when I looked at these guys together again. At Damon's birthday, party Jay and Dame looked natural. It was like they never split. Jay [was] effortlessly handling the overwhelming stares of groupies and super groupies and Dame seeming to gain confidence with Biggs on one side and Jay on the other. It's the ROC," he said. "No, we didn't belong there. That's our cousin's house. We love our cousins and we are welcome, but we never lived there.[Jay and Dame's split] was the classiest divorce I've ever seen," Laze said, but said he realized that M.O.P. is a group that charters a different path. "M.O.P.…we were destined to travel the desert, vagabonds, wild hyenas searching for bones or a fresh kill. We aren't classy we are rough, hard *ss ashy knuckle *ss n*gg*s. And the only peace we are ever going to have is when there is a war going on, that's our lot in life."
Read M.O.P.'s statement here.